Why Cree Will Continue Growing Its LED Market Share
Cree (NASDAQ:CREE) is a leading innovator of lighting-class light emitting diodes (LEDs), LED lighting and semiconductor solutions for wireless and power applications. The company is committed to drive LED adoption by optimizing performance and shrinking the gap between LED lighting and conventional technology. Cree currently accounts for 7.7% of the global LED market, but we estimate its share to rise to over 10% over our review period.
A surplus in LED supply led by Chinese manufacturers and a consequent decline in prices are key trends currently plaguing the LED industry. However, witnessing an increase in orders for all its business divisions, Cree claims that the LED market dynamics are improving. LEDs require significantly lower energy and maintenance costs compared to traditional lighting sources.

Historically, the LED market has grown at a CAGR of 21% from 2007 to 2008, whereas Cree's revenue witnessed a CAGR of 25%. We estimate the global LED market to grow at a CAGR of 9% until the end of our forecast period with the general LED lighting market growing at a faster pace. After the acquisition of Ruud Lighting, Cree has become one of the leading providers of indoor and outdoor LED lighting. Thus, we forecast growth in Cree's LED revenue (13% CAGR till 2019) to outpace growth in the global LED market.
Cree derives over 70% of its valuation from the LED market and any variation from our estimate can lead to a significant impact on its valuation. Our price estimate of $35 for Cree is at a considerable discount to the current market price.
In this article we discuss our rationale behind Cree's likely LED market share gains in the coming years.
Growth Potential In The LED Market; LED Sales To Increase At A CAGR Of 9%
The LED market has more than doubled in size in the last 5 years from $5 billion in 2006 to approximately $14 billion in 2012. Many economies, especially in emerging markets, are witnessing rapid urbanization, which is leading to greater opportunities for economic and social development. However, the same creates resource scarcity and raises environmental concerns. Countries are starting to recognize the opportunity LEDs provide to help them significantly reduce their energy costs and lower maintenance charges.
With energy savings of 50%-60% leading to lower greenhouse gas emissions and a much higher lifespan compared to conventional technologies, LEDs offer a cost effective option to lower global electricity consumption. In major market segments – such as commercial, industrial and outdoor lighting – LEDs have only 10% market penetration, whereas in the residential sector (perhaps the most promising) the penetration stands at a mere 1%. [1]
We estimate the global market to grow at a CAGR of 9% going forward and reach over $25 billion by the end of our forecast period.
China's LED Market Is Growing At A Fast Pace; Cree Expanded Its Manufacturing Facilities In The Region
China, Europe, Japan, South Korea, Taiwan and the United States are some of the leading LED producers in the world, whereas nations such as India and Russia still fall in the emerging category for LED production. Cree currently derives majority of its revenue from China, the US and Europe. China has one of the fastest growing LED markets in the world. Though US and Europe are relatively mature economies, the LED market is these regions are estimated to rise in the future.
In its 12th five year plan (2011-2015), China aims for LEDs to achieve 30% market share of its general lighting market by 2015. Estimated to grow at an annual compound rate of 49%, China is expected to have the largest LED lighting industry in the world for years to come. [2]
Realizing the growth potential of the Chinese economy, Cree has significantly expanded its manufacturing facilities in the country over the years. While only 14% of its property and equipment was concentrated in China in 2008, the percentage increased to 22% in 2012. Cree remains focused on expanding its presence in the Chinese market in the future.
With mandated lighting efficiency measures in the U.S, the North American LED lamp market is expected to grow from $3.6 billion in 2010 to over $11 billion in 2015. [3]
Though the European LED market is relatively mature, LED lighting market in the region is estimated to increase at a CAGR of 41% between 2010-2015. [4] Energy efficiency, including lighting, is a key component for reaching Europe's climate and energy objectives by 2020.
Revenue by Country (Source: Cree SEC Filings)

Country

2007

2008

2009

2010

2011

2012

China

21%

33%

38%

40%

36%

32%

US

20%

18%

20%

19%

24%

38%

Europe

15%

6%

10%

13%

14%

14%

South Korea

4%

16%

15%

10%

4%

2%

Japan

25%

13%

9%

9%

7%

8%

Malaysia

9%

6%

3%

2%

2%

2%

Taiwan

5%

4%

3%

4%

5%

1%

Other

1%

4%

2%

3%

8%

3%

Total

100%

100%

100%

100%

100%

100%
Rudd Acquisition To Increase Cree's Share In LED Lighting
With the demand from the backlight market nearing saturation, the expanding general lighting market is slated to drive LED sales in the future. Cree acquired Ruud Lighting, one of the pioneers in LED lighting and a market-leading innovator for outdoor lighting applications, in August 2011. The access to Rudd's portfolio placed Cree in a better position to leverage growth in indoor and outdoor lighting. Additionally, it increased Cree's access to the lighting market through expanded sales channels. LED lighting products currently account for 35% of Cree's total revenue, a substantial increase from 19% a year ago.
Cree is now the leading provider of indoor and outdoor LED lighting. The majority of Cree's lighting business is concentrated in North America, whereas the LED business in more widespread in Asia. However, we expect to see long-term growth in both these segments.
As per LED Inside, the LED lighting segment is estimated to increase from around $1.5 billion in 2012 to approximately $8 billion by 2015, a CAGR of over 70%.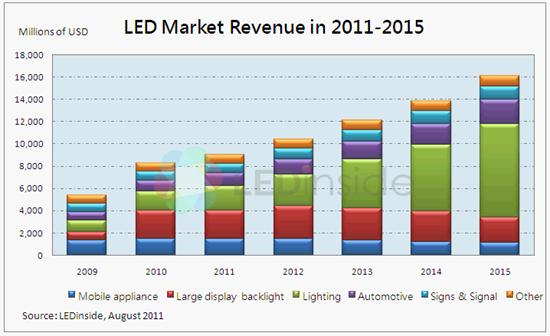 Though there still remains some excess capacity in the global LED market, Cree witnessed a 4% y-o-y increase in LED components and a robust 28% growth in its lighting products business segment last quarter. Cree has a fully integrated vertical lighting model and intends to continue working on building new lighting systems to reduce the cost of LED lighting and improve payback. It recently introduced a new game-changing series of LEDs. Available for as low as $10, Cree's new LED bulbs consumes 84% less energy and provide similar level of brightness compared to traditional bulbs.
Apart from its acquisition of Rudd Lighting, we feel the expansion of Cree's manufacturing facilities in China and North Carolina, make it well equipped to capitalize on the potential growth in LEDs. Though there is intense competition in the LED market from Nichia Corporation, OSRAM Semiconductor, Toyoda Gosei and Epistar Corporation, Cree has managed to prove its competitiveness over the years with superior R&D technology and a focus on driving growth via innovation.
Impact On Valuation
If Cree's market share increases to 14% by 2019, then there will be a more than 20% upside to our price estimate. On the contrary, if Cree's market share remains at the same level for the rest of our review period, then our price estimate for the company will decline by 15%.
Sources: trefis
For more information, please visit our website:www.powerwaywafer.com, send us email at sales@powerwaywafer.com .