In part one of these series, LEDinside explored Philips, Osram and Cree's vertical integration strategies. In the second part of this series we will take a closer look at major Chinese LED companies MLS and Elech-Tech International's (ETI) vertical integration strategies.
Why is MLS expanding its lighting business after becoming the largest LED packager in China?
On February 17, 2015, MLS was officially approved by Shenzhen A share, and its market capitalization skyrocketed to RMB 30 billion (US $4.64 billion), making it one of the most valuable companies in the LED package sector. MSL's huge revenue scale is the main reason of its surging market cap and by 2014 the company's revenue exceeded a record RMB 4 billion (US $619 million).
Compared to several other Chinese package manufacturers that entered the market at the same time, such as Nationstar, Refond Opto and Hongliopto, MLS has been expanding at an astounding pace. The difference among these Chinese manufacturers was insignificant in 2008, but by 2014 MLS revenue was three to four times higher than other companies.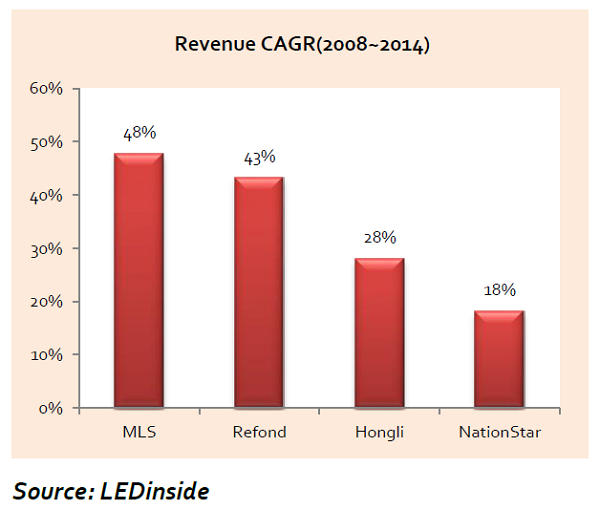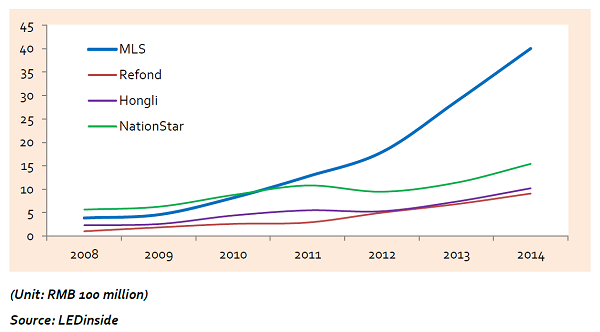 Comparison of Chinese manufacturers' revenue
Under similar operating environment and industry developments, the key to MLS exponential growth may lie in its correct business model.
MLS's business strategy exactly fits the description of overall cost leadership under competitiveness specialist Michael Porter's generic strategy. Once a manufacturer successfully implements the overall cost leadership strategy, it becomes extremely difficult for other enterprises in similar and related markets to acquire the same market position.
Many LED packaging manufacturers have made attempts to imitate MLS's cost leadership strategy, but have all failed. They probably forgot Porter teachings that only one enterprise can succeed using the strategy in a particular market.
However, the cost leadership strategy comes with risks too, especially in the LED industry, where the market and technology is rapidly changing. For instance, if CSP LED manufacturers succeed in eliminating LED packaging as they claim, then existing vendors focused on LED packaging with considerable package production capacity and technology, will be deprived of all their advantages and even risk losing their market competitiveness.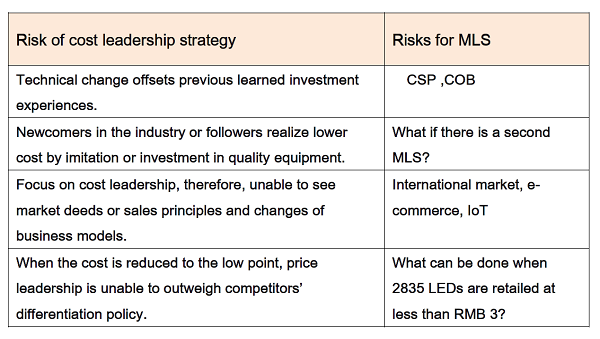 This is especially the case for MLS, which has focused all its investments in the past on leading package technology and becoming the top manufacturer in terms of production capacity scale. Although, production scale was once an advantage for the manufacturer, huge production capacity could lead to high fixed costs and expose the company to high operation risks when breakthrough technologies are introduced into the industry.
For mid-stream package manufacturers, utilizing capital advantages accumulated from current competiveness to control key up-stream LED chips and down- stream distribution channels to lower the risks in single link in the industry chain is the most suitable strategy. To put bluntly, even if the package value is eliminated from the supply chain, the manufacturer can still vertically acquire up- stream and down- stream suppliers and clients to support its future development, while its existing production capacity can be used to meet in-house demands.
Analyses based on the logic of vertical integration would roughly outline when the package production scale expands, and market transaction risks increases, due to changes in technology, channels and brands of LED and lighting products become increasingly a specific asset for a company. Therefore, vertical integration strategy becomes essential for these manufacturers.
This explains why MLS has the highest revenue among Chinese package manufacturers and still strives to enter the lighting market, to expand distribution channels and invest in branding. Although, MLS advantages comes from electronic production capacity and economies of scale, it still has a long way to go in terms of branding and consumer recognition compared to longtime leading brands in the century old lighting industry.
In the global lighting market, latecomers are confronted with international management, branding and other difficulties and acquiring Osram could easily fix these issues. For MLS, which is eager to build up its brand, expanding its export market through Osram's general lighting business distribution channels is a good strategy. On the other hand, Osram's general lighting business, which suffered from consecutive losses, could benefit from MLS cost control and scale advantages to turn around its losses to profits. This is also the reason why MLS announced that the boards approved the company Chairman Qinghuan Sun to represent MLS during negotiations in its bid for Osram's general lighting business.
Elec-Tech International (ETI) did not benefit from acquiring NVC Lighting, what would happen if it took over Osram's general lighting business?
Analysis of pros and cons of the vertical integration strategy used by ETI
Aside from MLS's strong interest in acquiring Osram general lighting business, industry insiders widely believe that ETI would be the company's potential competitor. When it comes to mergers and vertical integration, ETI is one of the experts in the LED industry.
ETI is an electronic manufacturer that entered the LED industry through the acquisition of Guangdong Jiang Long Da Guang Dian Technology Company in March 2009. Shortly after the acquisition, ETI absorbedShenzhenRetopLEDDisplay to enter the LED display industry in the same year. ETI further launched capital funding in the second market for the investment of LED chips and packaging business. While most of the LED manufacturers focus on specialization, ETI entered LED industry using vertical integration strategy, which was praised by the market for completing its supply chain. The company's share value soared from less than RMB 3 in 2009 to a record high RMB 24.49 in 2014 (share price after dividend payment).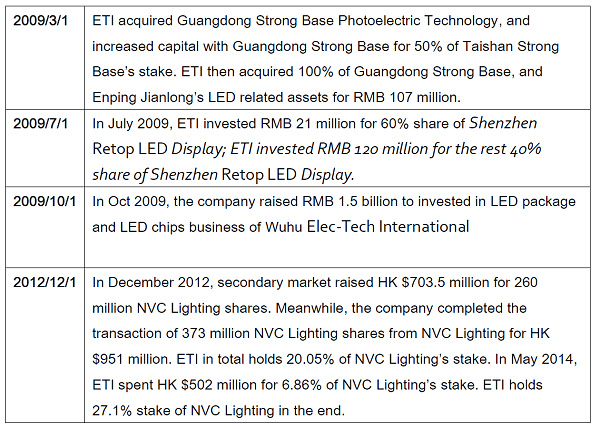 However, what differentiates a good strategy form a bad one is not the strategies itself, but how the enterprises integrates with the newly acquired business management. Obviously, when ETI first entered the industry and was unaware of the industry's rules, its vertical integration strategy caused a lot of trouble. When the production capacity of a LED chip manufacturer it invested in 2009, released its production capacity two years later, ETI also launched its LED chip production. However, due to severe marketcompetition, the unexpected price plunge caught the company off guard. What's even worse, the capacity and yield rate of ETI products failed to meet the company's expectation. Vertical integration didn't bring the expected synergy effect, on the contrary, it has repeatedly ignited internal fights among each production nodes, due to the high internal costs that surpassed market purchasing cost.
NVC Lighting shareholder disputes provided ETI a perfect export opportunity, and by investing in NVC Lighting ETI grabbed the opportunity to reach its vertical integration goal.  However, merger chances are accompanied with risks. During the adjustment process of ETI and NVC Lighting's business transaction, Changjiang Wu, founder and president of NVC Lighting clashed with former ETI Chairman Donglei Wang, which led to a physical violence and lawsuits. In the end, Wu's team was ousted from NVC Lighting for good.
Despite ending disputes, and NVC Lighting's gradual recovery under the management of Wang, the capital market has been unconfident about the company development. The company share value plummeted 40% on the first day the company resume trading on Oct. 26, 2015.
Until December 2015, the NVC Lighting's share price tumbled to as low as HKD $0.85 (US $0.1), and lost 70% of its value compared to when ETI purchased the shares for a price of HKD $2.5 (US $0.3) to HKD $2.97 (US $0.38) each. Meanwhile, the loss of ETI's invested capital amounted to a loss of US $200 million. The acquisition has definitely been unprofitable so far, and failed to achieve the desired merge outcome.
If the former acquisition was unsuccessful, why would ETI be interested in Osram's lamp business? This obviously is one of the steps in the company's vertical integration strategy. Following the integration of NVC Lighting and ETI, the company has formed two brands. NVC Lighting focuses on mid and high end market, while NVC Lighting-ETI focuses on mid to low end market sector, which seemingly completes ETI's industry chain deployment. However, these two brands are still gaining market presence. In order to establish a comprehensive distribution and channel deployment, the company cannot simply focus on domestic markets without deployment in the global market, therefore, Osram's lamp business would offer the perfect opportunity to expand in international markets.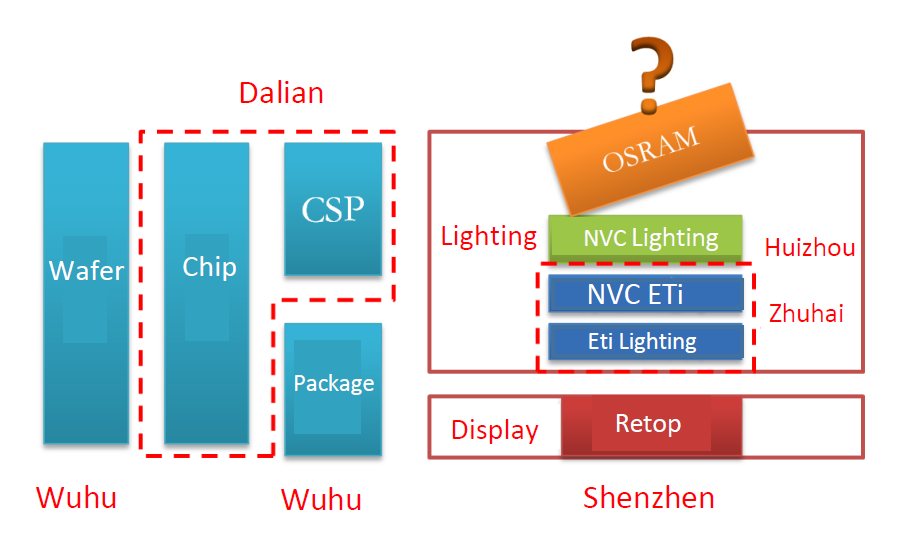 Source: LEDinside
Additionally, ETI's strategy of entering the market by acquiring Appliance of America (ACA) was a success. In 2013, Whirlpool authorized ETI as its LED lighting product distributer in North America. Although, the actual effect was not apparent as claimed by ETI, the company learned the importance of branding, and became aware of the commercial potential and global influence associated with a century old known brand.
Should ETI acquire Osram, differentiating NVC Lighting and Osram market position will become an issue ETI needs to tackle. Even though Osram can take the lead in the global market, with NVC Lighting taking the back seat, both brands are well-known in the Chinese market. Both have very similar market positioning, and there would inevitably be potentially overlapping clients. ETI would have to be able to resolve brand conflict issues.
If properly managed, Osram's lamp business and ETI could complement each other, easily solving ETI's large upstream and midstream production capacity.
Otherwise, the tragic experience from NVC Lighting would become a hard lesson learned for ETI. NVC lighting was once one of the top lighting manufacturers in the Chinese market, but today it has lost nearly two-thirds (66%)of its stock price and the company's market value is about a fifth (20%) less other similar companies in the business sector. Its investors have incurred overwhelming losses.
We have analyzed five companies, some of them started off with differentiation business models before developing vertical integration models, others started with vertical integration, but have later turned to differentiation. Still some once adopted differentiation, tried vertical integration, but later restarted with core strategies. Although, it may all appear conflicting, they all incorporate consistent economic logics that operates in a cycle.
In the next one to two years, LED industry will see a lot of merger and acquisition (M&A) opportunities as the market matures. However, only M&As that can truly bring strategic integration and achieve vertical integration will be meaningful. M&As that are conducted in blind sight, or for the mere sake of spinning-off will not last long.
Source: Figo Wang
If you need more information about our New LED  Wafer, please visit our website:https://www.powerwaywafer.com,send us email at sales@powerwaywafer.com orpowerwaymaterial@gmail.com.